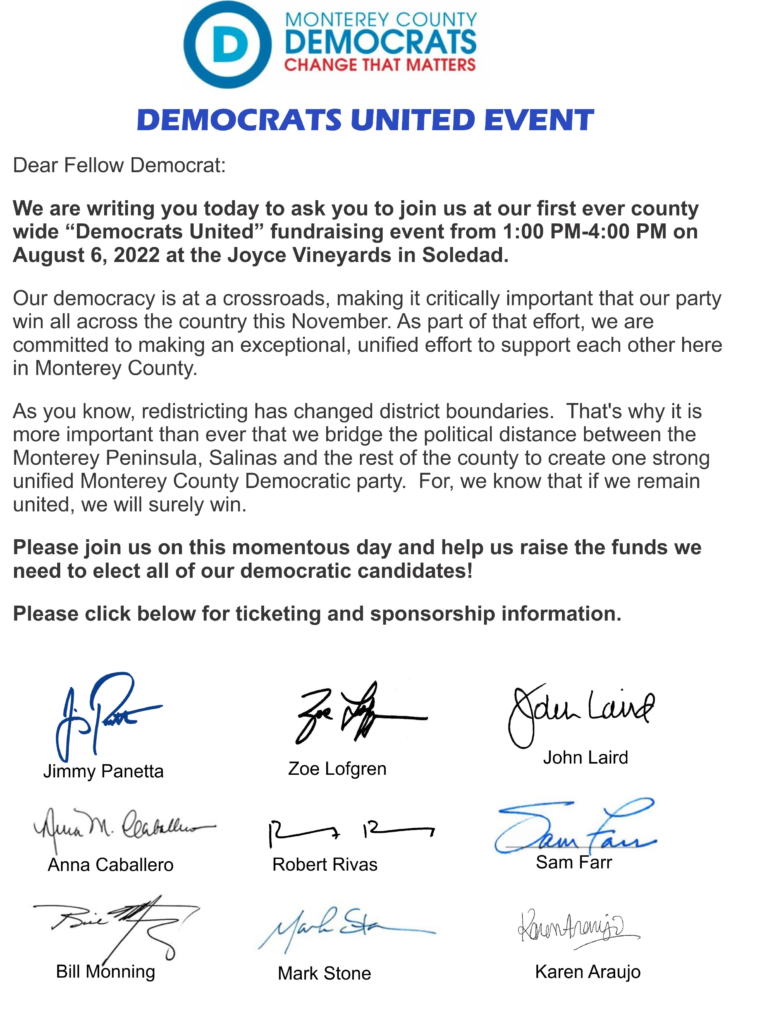 Tickets: $50 Sponsorship levels: $5,000 to $500
Get Tickets and Sponsorships Online Here!
Or write a check made payable to the Monterey County Democrats and mail to:
P. O. Box 3024, Monterey, CA 93942
For more information and questions, please email MCDCC.Events@gmail.com to reach Pris Walton, Development Officer for Monterey County Democrats. Thank you.
__________________________________
STATEWIDE PRIMARY ELECTION WAS ON JUNE 7, 2022.
Monterey County Election Results and CA Secretary of State's Office Results are updated periodically.
Monterey County must report its final official results to the Secretary of State by July 8, 2022.
The Secretary of State will certify all of the results from throughout California on July 15, 2022.
For State or Federal races, the top two vote-getters proceed to the November election.
For races within Monterey County, the top two vote-getters proceed to the November election.
If there are only two candidates (see School Board Races), a winner is declared based on the June results.
If a candidate in a countywide race achieves 50% + 1 vote in June, that person wins the seat outright.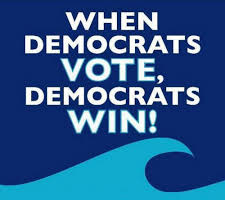 These candidates are endorsed by the California Democratic Party for offices in our region. Here are projected results based on the current figures provided thus far. A win = highest vote-getter in a race.
ASSEMBLY DISTRICT 30 – DAWN ADDIS – Win! – Will be on November Ballot
ASSEMBLY DISTRICT 29 – ROBERT RIVAS – Win! – Will be on November Ballot
CONGRESSIONAL DISTRICT 19 – JIMMY PANETTA – Win! – Will be on November Ballot
CONGRESSIONAL DISTRICT 18 – ZOE LOFGREN – Win! – Will be on November Ballot
Complete list of all state and federal endorsements – click here
These are the only local candidates endorsed by the Democratic Party:
TINA NIETO – MONTEREY COUNTY SHERIFF
Win! Nieto is at 48.9% as of the 6/14 Semi-final report. A candidate reaching 50% + 1, prevails outright in June. If no one gets that amount, the Sheriff's race goes to a November election with the top two on the ballot.
MONTEREY COUNTY SUPERVISOR DISTRICT 2 (DUAL ENDORSEMENT – VOTE FOR EITHER)
REGINA GAGE – Win! OR GLENN CHURCH – Win!
(Church will be on the November ballot certainly. As of 6/10, Gage is in the clear lead for the 2nd spot. She is 21 votes ahead of the 3rd place candidate with all but a handful of ballots yet to process.)
MONTEREY COUNTY BOARD OF EDUCATION – TRUSTEE AREA 1 – ANNETTE YEE STECK Win!
CHUALAR UNION SCHOOL DISTRICT 3 TRUSTEE – OFELIA C. FLORES Did not prevail
NO ON MEASURE B – CITY OF DEL REY OAKS Win! (that is: the "No" votes are prevailing)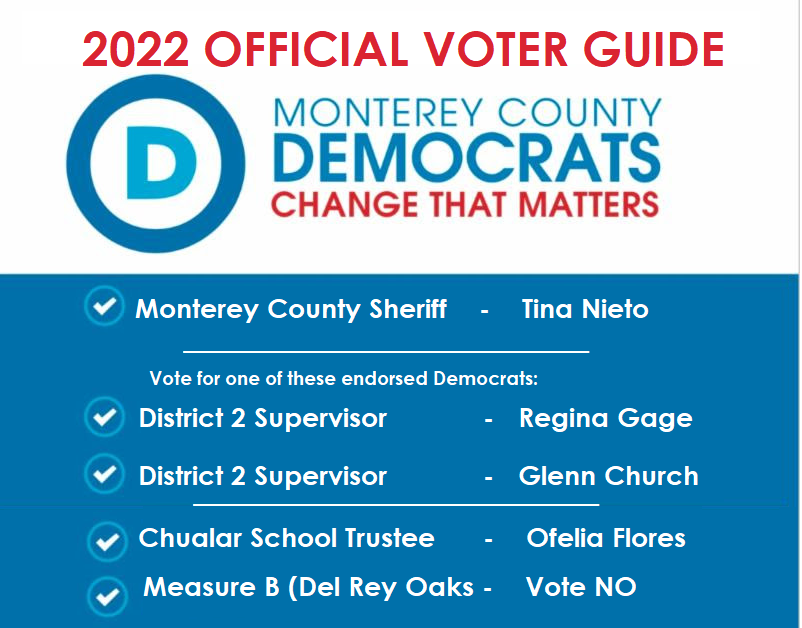 Email Alerts
Stay updated on local Democratic Party news, activities, and events.
Send your name, zip code of residence, and email using the CONTACT US page. Phone numbers are helpful, yet not required.
Thank you.
Visit our Headquarters


Volunteer opportunities include writing postcards or letters, making calls or sending texts to get feedback on the recent campaign season, data entry, compiling and updating reference materials, delivering literature to homes, creating content for the website, helping subcommittee chairs, joining a working group, planning events, organizing the office, and more. Staffed by volunteers. Hours vary. Call 831-333-0101 for information.
Center for Change – Headquarters for Monterey County Democrats
Located at 1238 Fremont Blvd. , Seaside CA 93955 – Hours of operation are posted here April-June and September-November (election seasons). Open by arrangement and for events year-round.
---
We Believe…
Democrats believe in people: all ages, all genders, poor or wealthy, immigrant or US American born.
We believe that this is our nation's strength: that different people can unite, working together for the good of each and for the benefit of all.
We believe that government's role is to protect the people and ensure justice, freedom, and equal opportunity.
And we believe that by standing firm on these values, California and the United States of America may reclaim our vision as a land of sustainable optimism, prosperity, and unity.
Join us!
We are the party of unity and equity. Make your own Democratic space.
Explore our site to learn more about the many ways you can make a difference in the party of the people. Stop by one of our meetings, join us for an event, make some calls, or just share information on social media.
Take a stand. Our community and our country need you.
Support Your Local Democratic Party – DONATE HERE!
Monthly meetings are held on 4th Tuesdays at 6:30pm and usually alternate between our Salinas and Seaside locations. They are preceded by an optional social time 6-6:30pm. NOTE: We are meeting remotely until further notice. To get a link and participate, please contact: MCDCC.Info@gmail.com. Thank you.