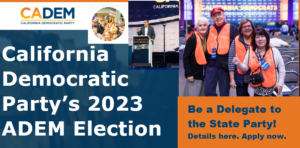 ‎
Do you want to be a voting member of the CA Democratic Party? Consider being an Assembly District Delegate – open to any registered Democrat. The window is open now through December 9th at noon to apply for a two year term. Learn more about it…

___________________________
UP-TO-DATE ELECTION RESULTS
Current count from the MONTEREY COUNTY ELECTIONS DEPARTMENT HERE shows updated results as of 5pm on 11/11/22.* It reflects the ballots received in advance of 11/8/22, some arriving by mail between then and now, and a portion of the ballots cast on Election Day itself.**  Next report will be Wednesday, 11/17/22 by 5pm. Ballots received via US mail up to 7 days after 11/8 will be counted. Conditional (registered late) and Provisional (lost/replacement) ballots are processed when they are verified. There will also be ballots dropped at CA polling stations outside of Monterey County. Each county must report final official results to the Secretary of State by December 9, 2022. 
Current count for the CALIFORNIA SECRETARY OF STATE'S OFFICE.
*Note: The figures on the MCED report for races that extend beyond Monterey County's borders are the number of votes cast within this county only. See the CA SoS's Office report for the counts reflecting all counties where people voted in those races.
**Note: The MCED explains the types, reasons, and number of UNPROCESSED BALLOTS here. The report does not indicate which specific areas of the county are represented by those ballots.
___________________________
Sara Rubin – Monterey County Weekly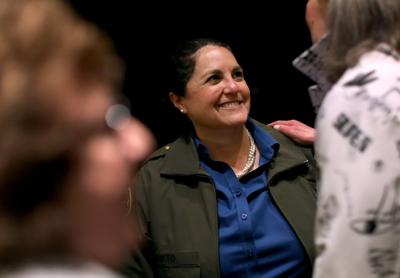 Tina Nieto celebrates with supporters on election night at Mo's River Road Grill.
Photo: DANIEL DREIFUSS
____________________
_____________________
For Voting Questions or to Report an Issue Call 1-877-321-VOTE.

Email Alerts
Stay updated on local Democratic Party news, activities, and events.
Send your name, zip code of residence, and email using the CONTACT US page. Phone numbers are helpful, yet not required.
Thank you.
Visit our Headquarters

Volunteer opportunities include writing postcards or letters, making calls or sending texts to get feedback on the recent campaign season, data entry, compiling and updating reference materials, delivering literature to homes, creating content for the website, helping subcommittee chairs, joining a working group, planning events, organizing the office, and more. Staffed by volunteers. Hours vary. Call 831-333-0101 for information. Email a chair or officer.
Center for Change – Headquarters for Monterey County Democrats United Coordinated Campaign
Located at 1238 Fremont Blvd. , Seaside CA 93955 – Hours of operation are posted here during the month preceding elections. Open by arrangement and for events year-round. Call or text Gary Karnes 831-402-9106.
Satellite Operations:
Located at 931½ E. Market St. , Salinas CA 93905 – Open only during the month preceding elections (subject to availability per property owner) – not operating year-round. Call or text Karen Araujo 831-601-4564.
Located in Gonzales CA 93926 – Materials pick-up and distribution by arrangement during the month preceding elections. Contact varies with each cycle.
We Believe…
Democrats believe in people: all ages, all genders, poor or wealthy, immigrant or US American born.
We believe that this is our nation's strength: that different people can unite, working together for the good of each and for the benefit of all.
We believe that government's role is to protect the people and ensure justice, freedom, and equal opportunity.
And we believe that by standing firm on these values, California and the United States of America may reclaim our vision as a land of sustainable optimism, prosperity, and unity.
Join us!
We are the party of unity and equity. Make your own Democratic space.
Explore our site to learn more about the many ways you can make a difference in the party of the people. Stop by one of our meetings, join us for an event, make some calls, or just share information on social media.
Take a stand. Our community and our country need you.
Support Your Local Democratic Party – DONATE HERE!
Monthly meetings are held on 4th Tuesdays at 6:30pm and usually alternate between our Salinas and Seaside locations. They are preceded by an optional social time 6-6:30pm. NOTE: We are meeting remotely until further notice. To get a link and participate, please contact: MCDCC.Info@gmail.com. Thank you.
Contagious COVID-19 variants are still out there, so protect your plans – and each other – with the tips offered by the CA Department of Public Health.