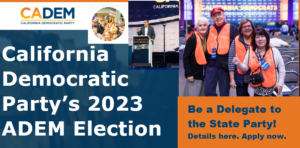 If you want to be a voting member of the CA Democratic Party consider being an Assembly District Delegate – open to any registered Democrat. The window is open now through December 9th at noon to apply for a two year term. As an Assembly District Delegate, you will vote in the decision-making at state conventions, network with other Democratic Party leaders throughout California, be a local advocate, an organizer, and a fundraiser. Your leadership will bridge local activism and our statewide efforts to Contest Every Race up and down the ballot. Here are the details for your use or to share with your Fellow Democrats.

What is the role of an Assembly District Delegate?
How do I register as an Assembly District Candidate?
People must request a ballot between 12/12/22 and 12/31/22 to vote by mail or between 12/12/22 and 1/22/23 to vote in person. Voting takes place in January at Assembly District Election Meetings (ADEM) around the state. Make sure your supporters have the information on this page.
Assembly District Election Meeting Tools & Resources
ADEM Schedule: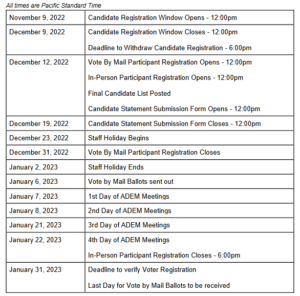 For more information, contact Karen Araujo, 2023 ADEM Convener for Assembly District 29. 831-272-2127 KAraujo93901@gmail.com